InvestXE Review
InvestXE Review
Introduction
InvestXE has historically focused both on active and novice traders. The company's goal is to widen its reach and appeal with new services and various account types. InvestXE's commitment to incredible customer services and its focus on world-class market data and latest trends makes then a top choice for traders who want to enhance their trading skills or who already are trading dogs.
InvestXE has all the bells and whistles a trader can think of to make successful trades. It also enjoys an outstanding reputation for its top-of-the-line services and detailed educational section. With InvestXE, the possibilities are almost endless. It has wonderful customer support and offers valuable services that can help you make money-making trades. Overall, InvestXE has put lots of effort into making themselves attractive to the typical traders and hardcore investors.
Account Types
When it comes to opening an account with InvestXE, you get many options depending on your experience level. All the account types at InvestXE are user-friendly and simple-to-use.
1. Primary Accounts:
The primary accounts at InvestXE let you trade efficiently and profitably. You can trade five different instruments that cover more than 16000 assets. The online trading tools and trading system offered by this account are second to none. There is no other trading service provider who offers such a lot of choice and variety. Professional Accounts are available in three tiers:
Standard Account: If you are starting your trading career, then a Standard Account is an ideal place to begin. You can trade all the available assets at InvestXE under this account. You can also get trading tips and hints that can help you trade-in successfully. Make profitable trades by making the right choices. By depositing a minimum BTC of value equal to $500, you get access to this account.
Progression Accounts: If you can afford to deposit BTC of value equal to $5000, then sign up for a Progression Account at InvestXE. It not only lets you trade but also helps you hone your knowledge so that you can make independent trades. Along with all the benefits that a Standard account offers, you also get access to Trading School of InvestXE for 90 days and membership in its extensive webinar library.
Advanced Accounts: Whether you're a top trader or want to become one, you should sign up for an advanced account. With this account, you can get the technical guidance you should have to succeed in your trades. You will also get the tools that will help you take benefit of the market. The advanced account will also give you access to the flagship platform of InvestXE that is MarketPro 1.0, 24/7 support from the experts to guide you, and access to its Trading School for 180 days. All this is available once you deposit BTC of value equal to $25000.
2. Professional Accounts:
The second type of account at InvestXe is the Professional Account. As its name suggests, the account type is best for professional investors and traders. The two tiers available under the professional account category are:
Gold Account: Looking to make big trades? Deposit BTC of value equal to $75000 and get access to the InvestXE Gold Account. With this account, you will get the ability and tools needed to make large trades. This account comes with lots of services and the support of the experts. You get access to its MarketPro 1.0 platform, trading signals delivered to your phone, membership to its webinar library, live trade review sessions, unlimited support, personalized sessions, and 300:1 leverage, and more.
Platinum Account: Platinum Account at InvestXE is your ticket for making successful trades. Knowledgeable support, high-tech tools, and various resources are what you get with this account. Besides the perks that you get with a Gold Account, you will also get the best possible spreads with an InvestXE Platinum Account, a hotline to its trading room, and access to its VIP room. The minimum BTC funding for this account type is 150,000 USDT.
3. AutoXE Accounts:
Now run efficient automated trading strategies in your brokerage account with an InvestXE AutoXE account. When you choose to open this account, you can rest assured knowing that all your funds will remain in your personal brokerage account. You get the chance to start and end your system when you want. It also offers you the opportunity to choose only one or many strategies.
Top traders run their best strategies via the platform of InvestXE. The analysts of InvestXE pick the best strategies for you by carefully evaluating them. You can then choose as many strategies as you want from those. Trades will be then made automatically on your behalf by the bots within the set parameters.
Services
InvestXE offers a comprehensive range of services that all kinds of traders will love. All the services are offered to focus solely on delivering traders the best possible trading experience. Users of this platform may get overwhelmed by a large number of available services.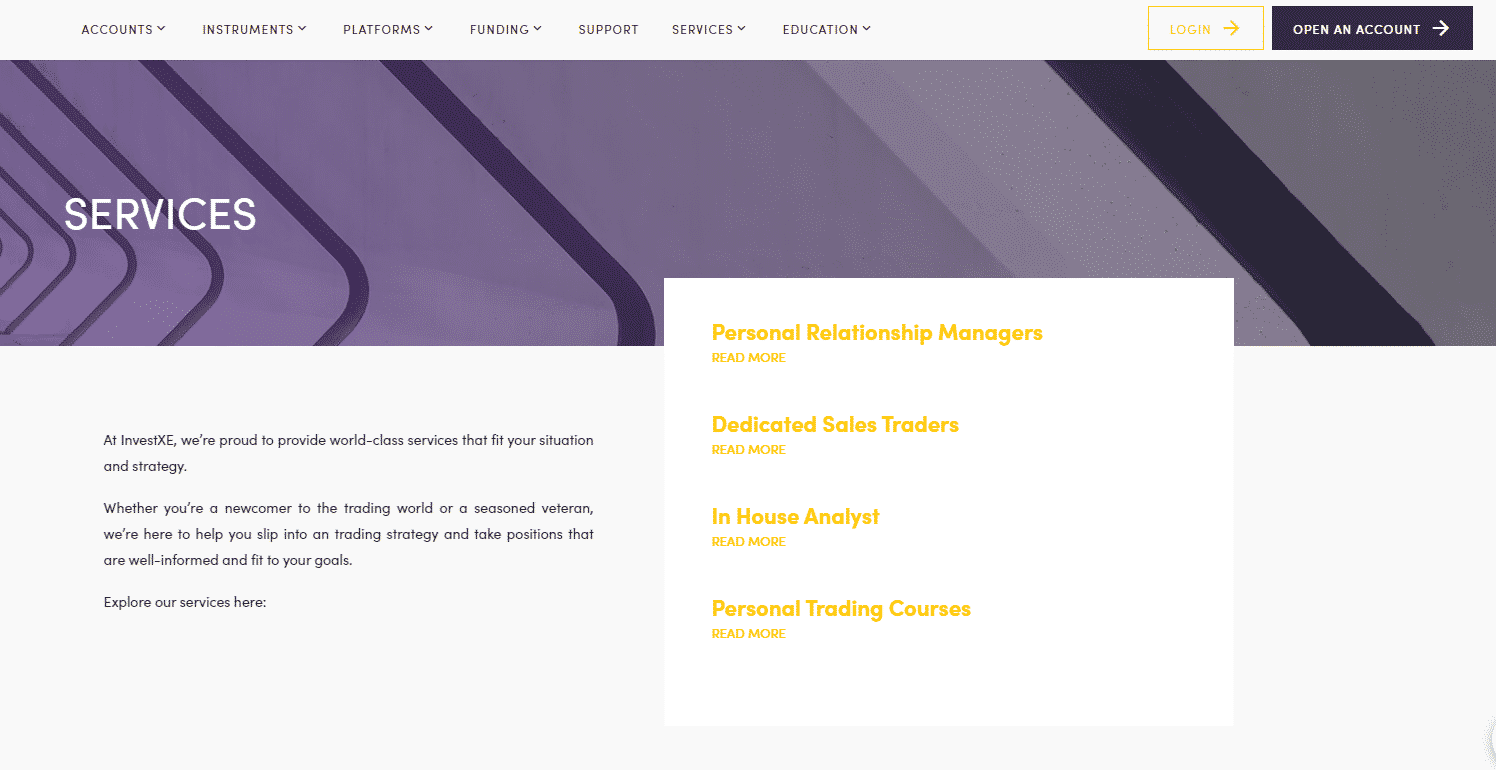 In-House Analysts: An in-house analyst at InvestXE is there to rocket fuel your trading. With their assistance and support, you will be able to win over your competitors and save your efforts. Their insightful advice, industry secrets, and resources can help you in a great way. They can be your success partner when it comes to trading. Make your trading journey faster and less-stressful with an InvestXE in-house analyst.
Personal Relationship Managers: The assistance of a personal relationship manager can help you cut through the technical jargon and make trading simple and quick for you. The personal relationship manager will always stay in touch with you via call, chat, or email. You can also arrange a face to face meeting with them.
Personal Trading Courses: Get an understanding and knowledge of the markets with the personal trading courses offered by InvestXE. With customized trading courses, you will get the market inner working insights and understand the complexities of the market.
Instruments
InvestXE is a top choice of traders because of the wide range of instruments available for trading. Its instruments catalog covers energy commodities, soft commodities, precious metals, cryptocurrencies, and currency options.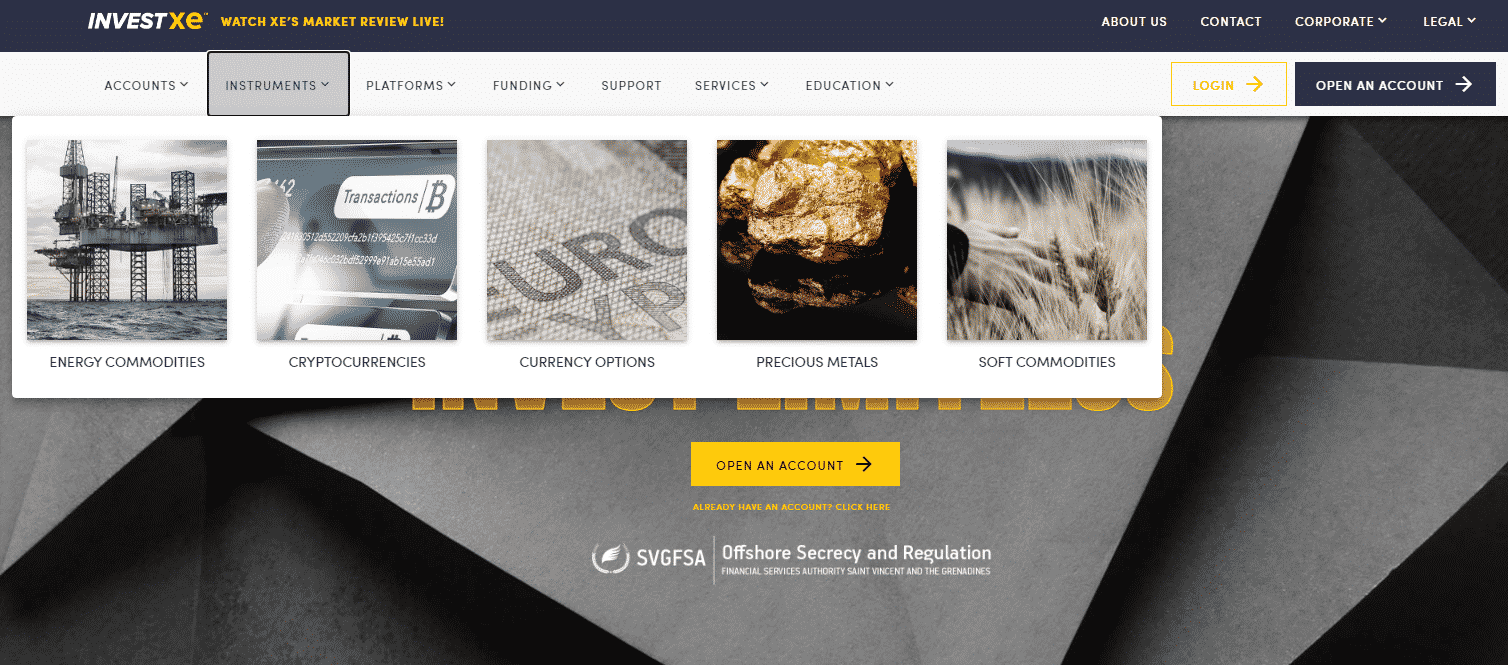 Energy Commodities: InvestXE platform lets you profitably trade energy commodities. It supports many trading options with sophisticated risk management tools and out-of-the-box customer support. Energy commodities include both renewables and non-renewables. Their prices can get affected by many factors like the economy, technologies, geopolitical situations, and more. No matter how and when the market fluctuates, a smart trader will take benefit from every situation.
Soft Commodities: InvestXe knows the importance and demand for soft commodities in the trading markets. Thus, it lets you trade various soft commodities through its platforms. It gives you access to many strategies and tools so that you can take advantage of this market. In this market, you can make profits even by shortening soft commodities. So, get ready to trade these low-risk commodities with the secure platforms of InvestXE.
Precious Metals: Gold, silver, palladium, and platinum has always been in demand in the trading world. It is because they tend to increase in their value. Precious metals are traded by some of the richest people around the world as they offer the opportunity to diversify their portfolio.
Cryptocurrencies: InvestXE is well known for cryptocurrency trading all around the world. It can help you enter the lucrative cryptocurrency trading world by providing helpful insights and various trading opportunities. If you don't own cryptos, don't worry. You can still trade them with InvestXE. Trading cryptocurrency with InvestXE is simple and straightforward. It offers tools and technologies for you to select the best trading strategies and trends.
Currency Options: The currency options market is a well-liked market for trading. With InvestXE, you can enter this market and become a successful trader. You can access this market from any device of your choice. It lets you trade anytime and from anywhere with 24/7 available support. Its different maturity ranges and competitive pricing makes it excel. The currency options pairs that you can trade-in with InvestXE include BTC/USDT, BTC/JPY, BTC/GBP, BTC/EUR, ETH/EUR, ETH/USDT, BTC/ETH, BTC/CHF, ETH/CHF, ETH/JPY, ETH/GBP, and more.
Trading Platforms
It is where InvestXE excels past its competitors. Its trading platforms are more superior, powerful than any other online trading house. The trading platforms of InvestXE are easy to use, come with rich graphics, and are customizable as well. Let's have a look at them:
Web Trader:All assets offered by InvestXE is qualified to trade can be accessed on the Web Trader. It is created especially for the new traders to provide flexibility and easiness of use. With this platform, you will get the skills and knowledge you need to become an industry expert. It will help you learn as you trade. The perks that are offered by a Web Trader include opportunities to evaluate the trends of different instruments, find the trending assets, see historical data related to trading, get additional security through 2-factor authentication, use multi-chart windows, and more.
MarketPro 1.0: InvestXE is well-known for its flagship platform – MarketPro 1.0. It comes with remarkable technologies and possibilities to open the door for trading success. From precious metals to cryptocurrencies, it will help you trade all and stay ahead of your competitors. You can use this platform on any browser and device. Some of the features and services that come with this platform are copy trading features, artificial-intelligence-driven bots, technical indicators, currency options VPS, quick access to strategy developers, and more.
Tablet Trading App: Since more and more traders have begun using tablets for trading, InvestXE launched its Tablet Trading App. The Tablet Trader of InvestXE makes you engage yourself in trading comfortably. You can now see live prices and access market data in real-time. It offers you powerful trading tools and functionalities in the palms of your hands.
Android Trading App: Android trading app of InvestXE is one of the trading platforms that suit both novice and experienced traders. This full-fledged trading platform offers all that you need to make lucrative trades. Along with an intuitive interface, the app also provides modern features to make the trading of different instruments simple for you. It lets you trade anytime and anywhere. The platform is best for both new and seasoned traders and everyone in between.
iPhone Trading App: Make trades on the go with the iPhone trading app of InvestXE. Optimized for small screens, the app has an intuitive interface with multiple trading options and complete functionalities that can help you become a professional trader. The wide variety of support account types, features, and supported instruments make the iPhone Trading app of InvestXE a top choice for traders on the go.
Education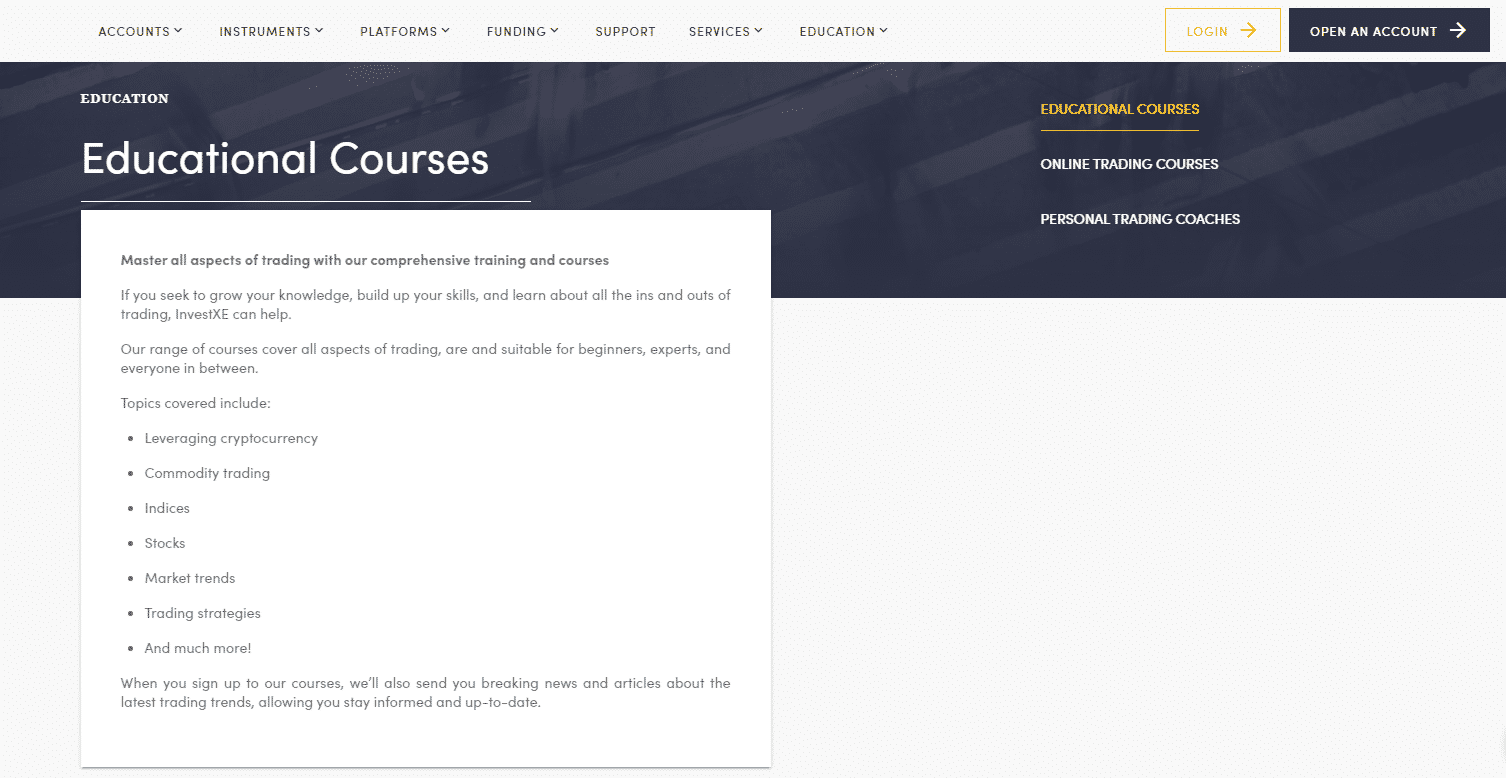 Another area where InvestXE excels is education. The education section of InvestXE is aimed at both professional traders and brand-new ones. There is a wealth of educational options available at InvestXE for the users. Let us highlight some of the best things that InvestXE offers to traders who are looking to learn:
Educational Courses: Whether you are looking for assistance with stocks, commodities, crypto leveraging, trading strategies, or market trends, InvestXE has a course for each one of them. You can master trading with these comprehensive courses offered by InvestXE. Regardless of your trading skills levels, you can take up these courses and hone your skills. If you choose to participate in these educational courses, you can also get articles and news about the newest trading trends that can make you stay updated and informed.
Online Trading Courses: When you trade, you don't find enough time to learn every aspect of trading. However, with the online trading courses of InvestXE, you can get the specific information you need. Sign up for an online trading course at InvestXE and start learning at your own pace. You can take part in engaging webinars, get 1-click access to virtual learning, and also learn the best strategies for trading.
Personal Trading Coaches: When it comes to trading and learning to trading, nothing can be better than personalized mentorship. Personal Trading Coaches at InvestXE are here to offer the same. You can ask them any questions, learn from their personal trading experience, and request their help whenever needed. With a personal trading coach, you will have an expert guiding you towards high success every step of the way.
Customer Support
InvestXE offers a range of ways in which you can contact their customer services, namely, email, phone, Telegram, and WhatsApp.
Email: To contact InvestXE via email, you can send messages to them via the email addresses mentioned below based on the kind of issue you are facing:
Support: cs@investxe.com
Trading Desk: tradingdesk@investxe.com
Compliance: compliance@investxe.com
Analyst Desk: analyst@investxe.com
Phone Support: Contacting customer support via phone is one of the best ways to get your questions or queries answered quickly. InvestXE has a different phone support number for every country it is accessible. By entering your country code, you can get their contact number on their website.
Telegram Support: This cloud-based app offers instant support to the users of InvestXE. Regardless of what issue you are facing, you can get immediate support through Telegram on InvestXE. Their team is available 24/7 via Telegram.
WhatsApp Support: It is the most popular messaging platform around the world, and thus, InvestXE has included it in its support channels. When you contact InvestXE via WhatsApp, you can rest assured to get answers and resolutions to your issues within minutes.
Verdict
InvestXE is a well-known force to be considered when it comes to a one-stop trading solution. InvestXE has become a gold standard for both beginners and active traders with its different account types available for different levels of traders. It offers an impressive variety of tradable assets available under five instruments. The trading tools and services available at InvestXE are some of the best ones.
Equally impressive are the different InvestXE trading platforms. If you are the kind of trader who enjoys trading on the go, InvestXE has mobile apps for all types of devices. You can choose one according to the device you have. And its flagship platform- MarketPro 1.0 – is second to none. You don't have to be an expert to make profitable trades with InvestXE. Its specialty account – the AutoXE account lets you trade lucratively even if you are new to trading using the strategies it offers.
FAQs
1. What Currency Options Can I Trade With InvestXE?
Ans. The currency options pairs that you can trade with InvestXE include BTC/USDT, BTC/JPY, BTC/GBP, BTC/EUR, ETH/EUR, ETH/USDT, BTC/ETH, BTC/CHF, ETH/CHF, ETH/JPY, ETH/GBP, and more.
2. How Can A Personal Trading Coach At InvestXE Help Me?
Ans. A personal trading coach at InvestXE can offer you individualized mentorship. You can ask questions or request their help whenever needed.
3. Is Automated Trading Possible With InvestXE?
Ans. Yes, InvestXE offers automated trading services with its AutoXE account. So, whether you are a new trader or an experienced one, InvestXE can help you make superior and lucrative trades with this account. You will only need to set parameters and select strategies according to your preference, and the bot will handle the rest for you.