Banxso Review – Things To Know About Banxso
Banxso Review – Things To Know About Banxso
What is Banxso?
The Banxso trading platform, a single online interface, facilitates trading on various markets. Trading on this platform is open to anybody who wants to participate, and it is one of the only legal, distinctive, and developing platforms of its sort.
MT5 and Banxso's Mobile Framework are only two instances of Banxso's sub-platforms that cater to the needs of a diverse range of clients and users, including merchants and patrons from a variety of sectors. It's critical to remember that every platform has its own unique set of features and functions, as well as additional user benefits.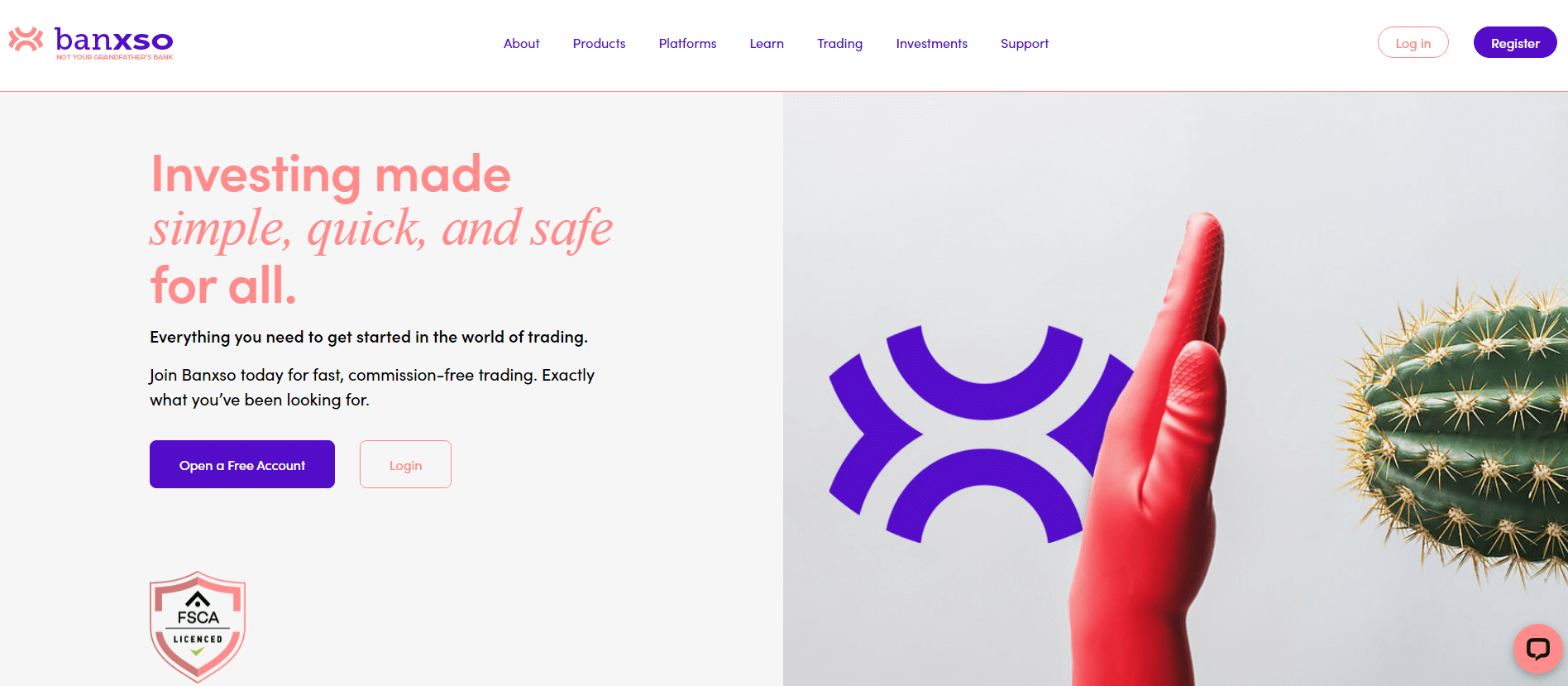 Founded in 2011, Banxso is an online trading platform that seeks to provide the best trading experience in the world. Clients may deal in multiple markets because of Banxso's popularity. Banxso has been licensed and regulated in several nations worldwide. It is a versatile platform that satisfies investors' and clients' wants by providing unmatched trading knowledge, capacity, comprehension, and financial aspirations.
Features
Banxso provides a user-friendly and safe platform for investors to utilize. Using a simple UI, one can easily invest in various portfolios, and simplicity is one of the platform's distinct advantages.
The Banxso Platform has the following key features and advantages:
Multi-functionality in goods, services, and trading platforms separate Banxso Platform from its competitors.

Banxso platform provides a range of trading marketplaces to its consumers and traders.

Its cutting-edge technology gives it an edge over its competitors in this trading industry. It also assures that transactions initiated or performed on its platform are completed quickly.

Customer support and assistance are accessible around the clock.
Is Banxso a regulated broker?
Banxso is subject to a wide range of regulations. Indeed, they comply with European and international laws and rules to protect their clients' interests.
Banxso is a licensed and regulated brand in several countries.
Zenfin Financial Services, a business like banxso.com, manages and operates this platform. The South African Financial Sector Conduct Authority (FSCA) has licensed Zenfin Financial Services to provide financial solutions to consumers outside the European Union.
XF Services Limited is in charge of processing credit cards. XF Services Limited is regulated by the Cyprus Securities and Exchange Commission (which operates the eu.banxso.com website).
Benefits of Banxso
Banxso's trading platform is critical to the creation of an all-encompassing ecosphere for investors, providing a slew of new advantages, as the following list illustrates:
It allows investors to analyze the depth of the market quickly.

It's an excellent way to give investors various post-trade and transactional information.

Navigating to the top of the platform allows investors to quickly and easily transact cryptocurrencies, stocks, CFDs, etc., and the number of assets available for trading on this exchange.

The platform's primary purpose for investors is to provide clarity and stability.

There are huge returns and minimal costs for investors because of the fast processing of bitcoin transactions.

Banxso allows investors to monitor the performance of a wide range of virtual currencies, such as Bitcoin and Ethereum, to pick the best asset for the transaction.

The ability to trade digital assets and commodities, and securities is a major perk of trading on Banxso.

One of Banxso's many goals is to educate its users and make transactions easier.

A wide range of currencies, both fiat and digital, and renewable and nonrenewable energy commodities can be traded on Banxso.

It also facilitates the trading of precious metals and soft commodities.

Offering unparalleled global reach and cutting-edge communication technology, it allows investors to take advantage of advanced technology that permits instant access from anywhere.

Its settlement cycles are short, and there are no delays.

It provides an investor broadcast service to keep investors updated on the latest crypto news. Price-fixing and other forms of abuse are less likely due to this open exchange of information.

Investor service centers are available around the clock to help investors with questions.

For the benefit of settlement procedures, investment guidance, and risk mitigation, several industry giants serve on Banxso's committees.

Is it safe to trade with Banxso?
Banxso's primary goal is to ensure the safety of its customers. Security fosters confidence, and confidence breeds success. Consequently, they make four commitments to customers:
 Dedicated funds for investment
They make sure that the money that their customers entrust to them is safe. Investors can have faith in Banxso's investments since their authorities effectively oversee them.
Assistance is available at any time
When you have questions or issues, they'll be there to help you. Though not all assistance centers are equally helpful, their support staff is undeniably one of their most significant resources.
Banxso provides a user-friendly and safe platform for investors to utilize. Many different portfolios may be efficiently invested by just using an interface, and simplicity is one of the platform's defining traits from its competitors.
 There are no additional charges or commissions
We've come across many websites that ask investors to pay hefty fees that aren't clearly stated. Banxso, on the other hand, has clear and investor-friendly policies that might be beneficial. And the platform doesn't charge any commission from its users.
Trading on the platform has never been easier or more convenient, thanks to Banxso.com's investment options. You may use the website to purchase and trade cryptocurrency, bonds, and shares. Because of this, Banxso can provide clients with a wide range of investment-related services.
Regulatory Compliance Credentials
Compliance with European and international regulations ensures that Banxso's platform is safe and secure for investors. The platform is regulated similarly to traditional banks and financial institutions, guaranteeing that your money is safe.
Banxso provides a wide range of instruments for investors of all skill levels to maximize their financial assets' return. The platform's analyst tool, for example, enables users to construct customized trading strategies depending on their aims and financial goals. It is also helpful to have access to well-written articles and news stories. Investors may maximize their returns on investment by utilizing this and conducting real-time research on economic market trends and patterns.
 

Technology-based on Artificial Intelligence
AI-powered algorithms and trading solutions are other advantages of Banxso. To maximize their return on investment, investors need to be aware of these aspects. The company's courteous and dedicated customer service is always ready to assist you for more assistance.

Assets offered for trading
From commodities, currencies, energy, forex, indices, and stocks to a wide range of other trading options, Banxso's products and services cover many financial markets. Banxso provides several trade markets, to be more precise. The following will help you obtain a better grasp of the subject:
It is possible to trade in the forex market utilizing various trading options, such as single payment and call or put.

Users of Shares Trading can buy and sell stocks, bonds, and other types of securities.

Commodities Trading allows users to trade in commodity futures such as metals, energy, etc.

Trading in cryptocurrencies such as Bitcoin, Ethereum, and others is made possible with the Digital currencies Trading feature.

It is possible to trade Indices that reflect the cost of a group of assets or stocks rather than their valuations, such as mutual funds and spread betting.
Order types
Market orders, stop orders, and limit orders are the three most common forms of orders.
Market Order: When a trader places a market order, they buy or sell stocks at the best price currently on the market. Market orders ensure that orders are delivered, but they do not guarantee a specific price. When the primary goal of trading is to execute a trade order quickly, a market order is the best option. Market orders are appropriate when a trader believes a stock is priced right, needs a rapid trade execution, or is certain that they want to fill his order.
Limit Order: When a trader buys or sells stocks, a limit order sets the maximum price to be paid or the lowest price to be received. The limit price is the difference between the highest and lowest price. A limit order is always filled at the specified limit price, but the execution is not assured. Limit orders are suitable when traders believe they can buy higher or lower prices than the current quote.
Stop Order: When a trader buys or sells stock at the current market price, a stop order is placed after the stock has gone through a specific price, known as the stop price. If any stock reaches the stop price, it becomes a market order and is filled at the next available market price. The order is not executed if the stock does not reach the stop price.
Banxso also offers support to the following order types as mentioned below:
Guaranteed stop-loss order

Stop-loss order

Market order

Limit and stop entry order

Take profit order

Partially close trade order

Trailing stop-loss order
Demo Account
A demo account is available on the platform using which users can register a free account and practice trading for free.
Account Types
Users may open only trading accounts, and there is an option of a demo account that users can use to learn to trade. Banxso provides trading in various commodities, and these trading accounts may be tailored to suit your needs.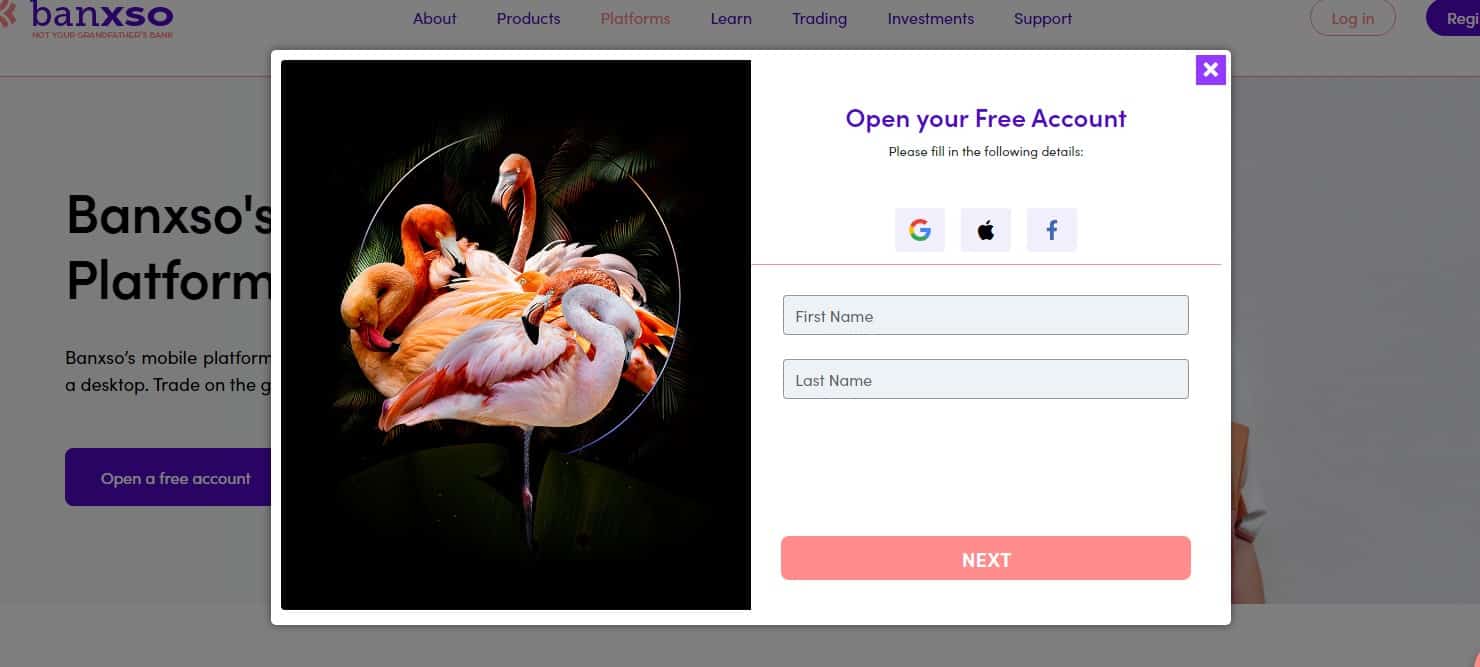 Account opening process
Suppose you want to use their services or initiate a transaction. In that case, you must create an account on their website and complete their Verification process, including the client's name, id number, birth date, e-mail address, postal address, and telephone numbers. Customers can see their Account and Login Details and any other data that is uploaded to their Account, including transaction activity, once they've been granted permission to use the Services they've signed up for.
During the verification process, they may ask for or need particular papers from the customer. It includes a current utility bill in the client's name and address, as well as a copy of a government-issued identity document such as a driver's license or passport (each of the following documents should be valid for the next six months at least).
Along with their verification process, they also implement anti-money laundering and counter-terrorism funding safeguards (known as an 'AML policy'). Banxso's AML policy outlines steps it may take to prevent money laundering and terrorism financing while also assisting it in recognizing potential threats.
Trading Platforms
Traders from all over the world have flocked to Banxso. Because they provide a wide variety of trading platforms, they attract new customers every day.
Everyone is welcome in Banxso. They cater to traders of all skill levels and financial aspirations, regardless of their experience. There are a variety of trading platforms to choose from, including Banxso X, MT4, MT5, and Mobile. There are advantages to each of these platforms.
MetaTrader 5
One of the most comprehensive and adaptable platforms for multi-asset trading is MetaTrader 5. Technical and elemental analysis and a competent MQL5 programming environment, and multi-currency testing are all included in this trading platform.
Multi-asset traders may use MT5, an all-in-one trading platform, to trade more than simply CFD Forex. Stocks, futures, and currency trading are all included in this category.
MT5 is faster than MT4 in terms of execution. This multi-threaded 64-bit platform enables traders to examine where bids and offers are priced across different markets.
Trading Algorithms
Using Expert Advisors trading robots to digitize trading is an excellent feature of MetaTrader 5. The robots use an algorithm to assess quotations and then make trades. Automated trading is possible because the software lets traders design their Expert Advisors, and users can also develop their indicators.
An interface that one may use in several languages
Improved user experience and the removal of linguistic hurdles for millions of traders globally are the primary goals of this translation of the platform's user interface. MT5 is for those who don't speak English. To better understand trading processes and avoid frequent mistakes, you should read trade information in your native language.
Banxso's Mobile Platform
Mobile trading is possible using Banxso's platform. Banxso's mobile trading platform is available for Android and iOS devices.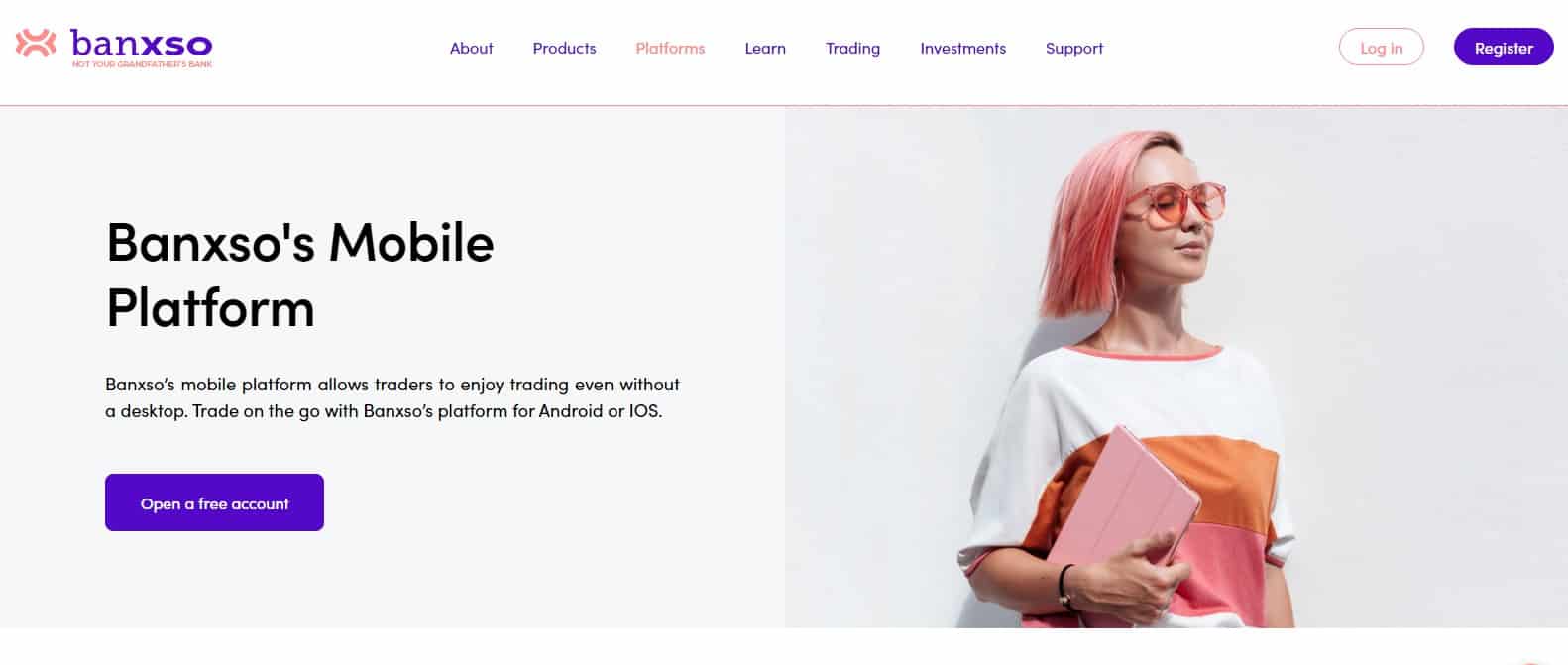 Make the switch to smartphones and tablets:
The Banxso mobile app facilitates all trading activities with technical indicators and graphical components. Banxso's platform allows traders to review their trading history and account status.
You may trade on the move with Banxso's platform. The financial markets are always available to you, no matter where you go.
Education
As they gain experience, they will become better traders. Because of this, Banxso traders can attend their academy for free.
Training products for its clients, including webinars, online courses, and trading ideas, have been developed. With these educational tools provided to Banxso traders, you may practice trading whenever you want. They offer training programs to help their clients trade more successfully and confidently in the financial markets.
Online Training
Banxso wants its traders to be sufficiently prepared. They can accomplish this since they already offer ready-made courses covering a wide range of financial trading topics. For the convenience of its traders, they have also made these courses available online. They provide convenient online lessons. The uploaded content may be accessed by customers, on any device, and from any location.
Banxso's trading experts offer books and educational seminars to the community.
Trading strategies, cryptocurrencies, currencies, commodities, indices, and commodities are all covered in their online courses.
Coaching
Self-education and self-motivation are necessary for trading. In contrast, Banxso has faith in mentors. Academic and professional performance are directly linked to the success of students' teachers. As a result, they hired the best traders in the business to train Banxso's traders one-on-one. Banxso's coaching program allows customers to interact with trade specialists in real-time.
Banxso's coaches will be happy to help if you have questions about trading. After evaluating the transactions, the coach will explain why they made decisions that cost them money. Improve your trading plan and stay focused on your trading goals with the help of Banxso's trading coach. 
The Sharing of Ideas
Their conversation revolves around the economy and its future path. Short- and long-term asset volatility can be predicted using heuristics. A focus on political, economic, and environmental issues is a regular feature of their market reports. Being aware of the latest Banxso reports gives customers peace of mind. 
Webinars
Topics covered in Banxso webinars include a wide range of helpful knowledge. Using their interactive webinars, clients may exchange their thoughts with other attendees. In doing so, their clients will understand the inner workings of financial markets and trading. To help their clients retain information, webinar speakers will provide them with recordings, voice notes, and presentations.
Banxso Review – Customer Support
Clients can contact Banxso with any questions or concerns they may have. Tell them about your client's issues, and their support team will get back to you right away.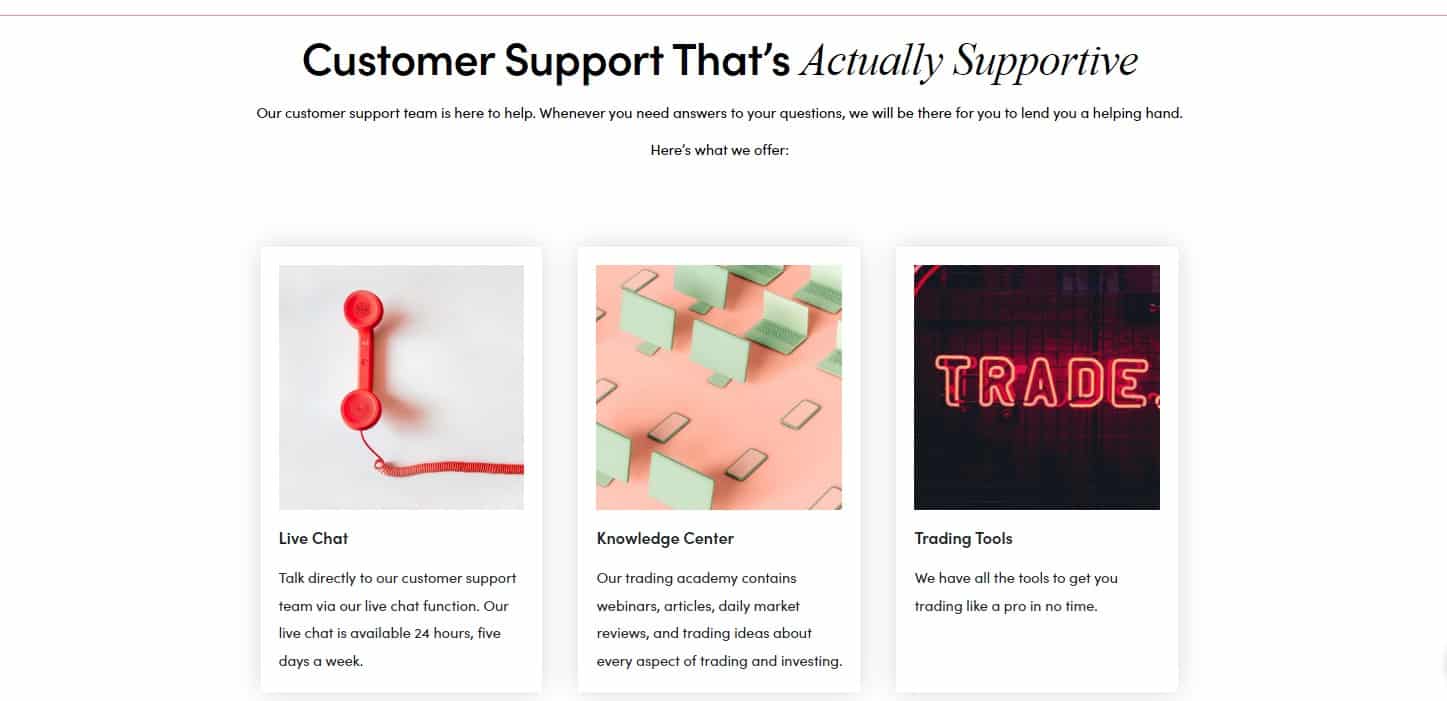 Sending an email for assistance
Tell them what you want. Your full name and contact information should be sent to support@banxso.com. Banxso normally responds to emails within 24 hours. 
Banxso's Human Aid Program offers one-on-one assistance. At Olievenhoutbosch Road and Jean Avenue, Centurion 0157 (South Africa), you'll find the Banxso South African Embassy at Byls Bridge Office Park Building 14, Block B. 
Help over the phone
Please have the necessary information on hand before calling. They are here to assist you, and they will be there to help their customers anytime they have questions. 
They provide the following services: 
A real-time conversation:

Contact their customer service representatives via live chat to learn more. Live chat is available all the time. 

The Knowledge Base:

They also provide a trading school that includes a webinar, blogs, daily reviews, and trading recommendations. 

Investing Instruments:

Within a short period, you'll be conducting business like a pro. 
FAQs
How can I know whether a trading business is right for me? 
During the session, customers will learn about the best trading platforms in their country and gain professional advice. Banxso can also be contacted for help. 
How can I get my money back?
Double-check all paperwork before making a withdrawal request to minimize delays in receiving the money. Once a payment method has been validated, it does not need to be recertified each time it is used. The front and back of each credit card used to make one must provide a deposit, and expired credit cards need fresh copies of both the front and back. 
How can I deposit money into my account?
Bank accounts (or other ways linked to a bank account, for example, credit cards) in the customer's name are accepted as a form of payment. 
What withdrawal options are available?
Wire transfers and credit card withdrawals were available options. The first time you use a new payment method, you must go through the entire verification procedure. one cannot make payment until all necessary documents have been received. For using an additional payment method, one must first route all withdrawals back to the source of the deposit.