It is a decentralized programmable blockchain using the concept of Bitcoin. However, it is different from Bitcoin infrastructure. It aims to create an open-source, decentralized app platform, unlike Bitcoin, which is dedicated as a decentralized financial institution.
Ethereum was launched in 2015 to enhance the security and openness of the blockchain ecosystem. From financial tools to gaming platforms, all types of databases are running on this blockchain. The future growth is unlimited because it allows developers to build and run applications. The developers do not need any other institutions because they can launch their apps on this decentralized ecosystem. 
The cryptocurrencies, which are launched on the Ethereum ecosystem, are known as a 'token.' ETH is the native coin of the Ethereum blockchain, which is used to pay fees on this network.
While writing this analysis, ETH/USD is trading at $2394. Due to several world news, it is almost 8% down from the previous day. Moreover, it will continue its downfall for the next few months. It is coming down after reaching the resistance level of $3189, and it may break the support level soon. If it breaks this level, the next support level will be $1750. 
After reaching an all-time high of $4799, it is down from the last four months. After taking initial support of $2400, it rises for a few days, but it is going down again. 
On the daily chart, the MACD is bearish, and the RSI is in the oversold zone. Today's candlestick breaks the lower half of the Bollinger Band, and it is going down steadily. However, we think it will revert back in a few days as per Ethereum price prediction and the historical data.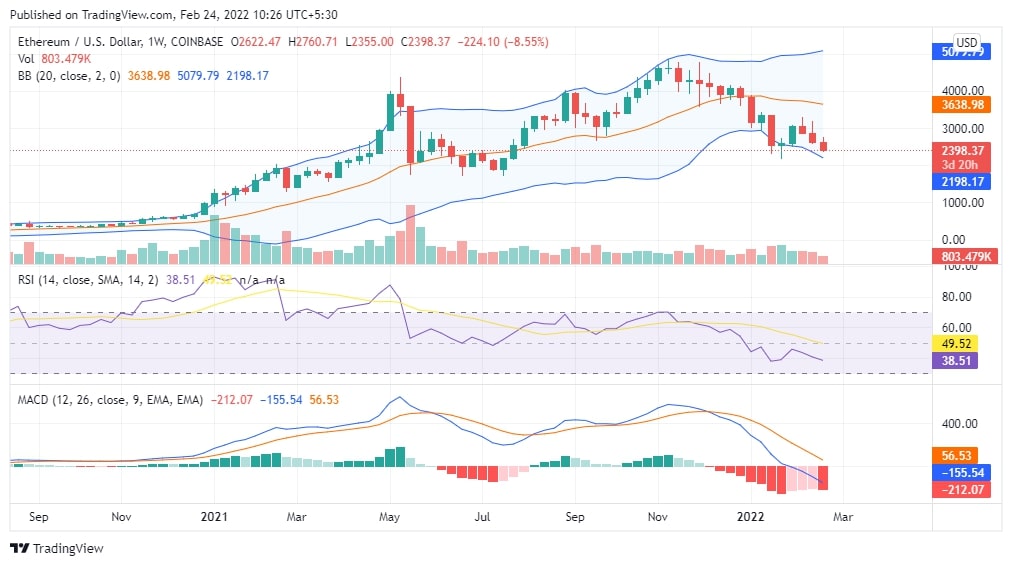 On the weekly chart, the MACD is bearish with large red histograms, the RSI is also in the oversold zone, but candlesticks are not breaking the lower half of the Bollinger Band. Due to world scenarios, different news is coming from different parts of the world. We do not think it is the ideal time for investment because we do not know what the next support level is. Indeed, the chart has been consolidating in a range in the last few weeks, but it will fall again if the news is not favorable for markets.  
Traders should wait for a few days/weeks until the crypto market shows a sign of recovery. They can take this as an opportunity for investment because Ethereum and Bitcoin are two large-cap cryptocurrencies.